Treasures of Temple Shalom
Prophets in Glass: The Sanctuary Windows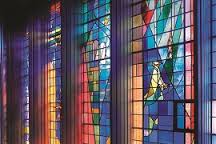 Napoleon Setti designed stained glass windows for many houses of worship, including the National Cathedral in Washington D.C., Princeton University Chapel and Temple Shalom of Newton.
Each of the 12 stained glass windows in our Sanctuary is inspired by a text from the Prophets. In designing the windows in 1956 and 1957, Mr. Setti worked from small color sketches, to full-size black and white panels to creating the actual glass plates.
Having immigrated to the U.S. from Italy as a small boy, Mr. Setti returned to Europe to study the stained glass masters of the Middle Ages throughout Italy, France and Spain. Rather than simply composing his images from sections of colored glass, his technique was to let the texture and the character of the glass itself help lead the design. "I study the Bible and the shapes of rocks and trees," he said. "The glass does all the work."
Eight Years of Creation: The Sanctuary Ark Doors
While the 1960s were a time of change and upheaval, they were years of slow and steady progress in the home of Charlotte and Rabbi Murray Rothman. It was in their bedroom that more than 30 members of the Temple Shalom Sisterhood worked over more than eight years to create the ark doors for the Temple Shalom sanctuary, completed in 1967.
Handmade of crewel embroidery and appliqué on wool serge, the design is Mrs. Rothman's adaptation of the painting 'Creation' by Boston artist Lawrence Kupferman. Beginning from chaos at the bottom, shapes assume the forms of evolving plant life, moving up to animals and finally the clouds and stars and planets.
Upon seeing the ark panels, Lawrence Kupferman was so impressed with Mrs. Rothman's interpretation of his painting, he gave it to her as a gift. Few Temple members have made better creative use of their bedrooms.
Can You Make This Building Jewish?: The Chapel
"Just an incredible man," says Diane Palley about Claude Menders, the architect of the Chapel. Ms. Palley should know. She is the artist who created the papercut art that graces the ark and windows of the space. "He was a survivor, as a teenager from France. Such a talented and funny and generous and authentic person."
Palley and Menders worked side-by-side over months. "Claude was Jewish and brilliant, but not visually knowledgeable about Judaism. So he said to me, 'Can you make this building Jewish?' He took care of all the measurements and framing things out. And I got to do the part I really wanted to do."
Palley and Menders worked on four projects together before Menders' death. "I made him a paper-cut amulet. And I gave him an eternal light when we were working together. It hung in his house for years."
On Intimate Speaking Terms: Temple Shalom in its Surroundings
Temple Street, where Temple Shalom lives, was named not for our synagogue, but for a 
19th century Masonic Temple. In 1951, the new Temple Shalom congregation purchased a private estate at 175 Temple St.
Samuel Glaser, who studied with Bauhaus founder Walter Gropius, designed the new building. He believed that a synagogue should relate to its natural surroundings. "They should be on intimate speaking terms," Glaser said, "to be warm and inviting, rather than austere or imposing."
Conscious of Torah stories that take place outdoors, Glaser designed the temple with an "inside feeling outside and an outside feeling inside." The arched, open Sanctuary is an example of Glaser's thinking on how good line and clean design help attain a feeling of tranquility, in an environment of wholeness and peace that Temple Shalom members have enjoyed since 1956.
The Brant-Yellin Traveling Torah


1, From Poland to Canada
Escaping Poland for Montreal in the late 1800s, Rabbi Bunim Yellin carried with him a sacred possession: a small, beautiful Torah scroll. As the last in a long line of rabbis, Rav Yellin knew the value of the scroll. After landing safely in Canada, he used the Traveling Torah for years while serving as the head rabbi of an Orthodox school and synagogue in Montreal.
With the members of the synagogue aging and the Montreal Jewish community changing, the shul closed its doors. The Traveling Torah was passed to Rav Yellin's daughter, Goldie, who took it upon herself to find a new home for it.
2. A Short Trip to New England
Now, Goldie was particular in her tastes and not an easy woman to please. She cherished the Traveling Torah. To be sure it was kosher, Goldie hired Orthodox scribes to go through the scroll line by line, letter by letter. She wanted to find the right spot for it, a place where it would be used, cared for, and accorded the respect it deserved. Goldie had a favorite nephew, Jonathan, a caring and considerate man whom she felt she could trust to help her find a home for the Traveling Torah.
For awhile, it looked like a prestigious New England university would be the place. But Goldie wasn't satisfied and enlisted some daring Orthodox rabbis to rescue the Traveling Torah from the clutches of academia.
3. Home at Temple Shalom
Finally, in 2005, Jonathan and his wife Renee (Brant, by the way, long-time members of Temple Shalom), convinced Goldie that the Traveling Torah could find a loving home at Temple Shalom of Newton. The Bunim Yellin Traveling Torah, born in Poland, revered in Canada, now lives proudly in the Chapel at Temple Shalom of Newton. We believe Rabbi Yellin would be pleased.
In December 2017, a new Torah mantle was dedicated for the Torah.
BERMAN | 1
For more information on Open Your Eyes, visit the home page.
Learn more about past events.
Fri, September 29 2023 14 Tishrei 5784