Senior Rabbi Allison L. Berry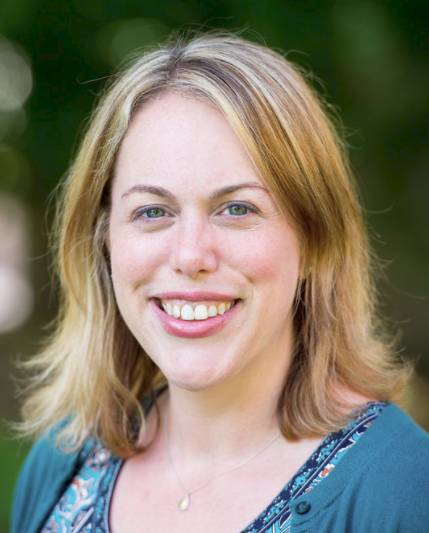 Rabbi Allison L. Berry is honored to serve as co-senior rabbi of Temple Shalom and work in partnership with Rabbi Abrasley as they lead the clergy and staff team of the congregation. Rabbi Berry joined the Temple Shalom community in 2011 as the Associate Rabbi and Director of the Grades K-6 SHACHARIT Education program. She is deeply committed to the fact that Temple Shalom is a diverse community, welcoming people of traditional and non-traditional backgrounds, interfaith families, Jewish-by-choice, non-Jewish partners, members of the LGBTQ community, people with physical, social or cognitive challenges and those searching for meaning.
Rabbi Berry graduated from Brandeis University with a Bachelor's Degree in Near Eastern and Judaic Studies with a Minor in Music. Upon graduation, Rabbi Berry worked as the Family Educator of Congregation Mishkan Tefila in Chestnut Hill and later attended Hebrew Union College-Jewish institute of Religion in New York. Ordained as a rabbi in 2007, Rabbi Berry has served congregations in Hickory, N.C., Leonia, N.J. and for three years was the rabbi and education director of Temple Beth David in Canton, Massachusetts.
Rabbi Berry is proud of her accomplishment creating and developing Temple Shalom's K-6 Jewish education program,SHACHARIT which launched in 2014. She is a passionate advocate for the full inclusion of people with physical, social, emotional and cognitive challenges within the Jewish community and has worked to create an environment at Temple Shalom where all children and adults are welcome and able to learn and connect within the community.
Rabbi Berry believes, "the synagogue should be a place that feels like home from the moment you walk through the doors. At Temple Shalom, we strive to be a home in which we celebrate the joyous occasions in our lives and gather together for support in times of sadness. One of the many roles of a rabbi is to care for and teach the community during these moments of meaning - the moments of joy and sadness. I strive to help each person who joins us deepen their own learning, spiritual and communal connections and ultimately do the work of tikkun olam (repairing the world)."
Rabbi Berry, her husband Mark, and children, Micah and Zachary love living in Newton and can often be found at the Cabot School playground.
Sermons: Rabbi Berry Rosh Hashanah 2017//5778 sermon on Sept. 20, 2017.
To reach Rabbi Berry please contact Loretta Zack.
Phone: 617-332-9550
Follow Rabbi Berry on Twitter: @aberry18
Senior Rabbi Laura J. Abrasley
Rabbi Laura J. Abrasley joined the Temple Shalom clergy team in July 2015. She grew up in Houston and graduated from Texas A&M University with a degree in psychology. Her path to becoming a rabbi began with many summers spent as a camper and then counselor at the URJ Greene Family Camp in Texas. After college, Rabbi Abrasley worked in education and technology sectors in Boston, most recently serving as Youth Educator at Temple Israel.
In 2007, Rabbi Abrasley began her rabbinic studies in Jerusalem and continued at the HUC-JIR campus in Los Angeles. She served as a student rabbi at several congregations in California – Visalia, Culver City and Tarzana – as well as Boston. She also was the rabbinic intern at the Jewish Home of San Francisco and for the HUC DeLeT Summer Institute. With a strong commitment to Jewish learning, she earned an additional Masters in Jewish Education and was an education intern at Leo Baeck Temple in Los Angeles. Upon ordination in 2013, Rabbi Abrasley served for 2 years as the Director of Lifelong Learning at Congregation Beth Or in the suburbs of Philadelphia.
In her role as one of the rabbis at Temple Shalom, Rabbi Abrasley is committed to inspiring and implementing active, engaged opportunities for connection and community. She believes deeply in partnering together to pursue the work of Tikkun Olam, repairing the world and providing rich moments for Talmud Torah, the pursuit of lifelong Jewish learning.

She and her wife, Julie Childers, have an adorable son, Noah. They are thrilled to be in Boston where wearing Red Sox hats is the norm!
To reach Rabbi Abrasley please contact Anne Fried.
Phone: 617-332-9550

Cantor Peter Halpern
Cantor Peter Halpern grew up on Long Island where his love of music and singing developed early on. He performed in many school musicals and sang with a professional barbershop quartet. He studied voice with mezzo-soprano Jan de Gaetani at the Eastman School of Music in Rochester, New York, graduating with distinction on a merit scholarship. He was the youngest-ever finalist of the Liederkranz Foundation Vocal Competition at Lincoln Center and has been guest soloist with, to name a few, Zamir Chorale of Boston, the Hidden Valley Opera Company in Carmel and the Aspen Music Festival. Cantor Halpern first sang as a cantor at the age of 19, then continued on to Hebrew Union College-Jewish Institute of Religion (HUC-JIR) School of Sacred Music and received investiture in the Reform Cantorate in 1988.
Upon graduation, Cantor Halpern accepted a position with the Liberal Jewish Communities of the Netherlands where he stayed for 10 years. He officiated, concertized and sang several opera roles in Belgium, Germany and England. He was able to utilize his working knowledge of four foreign languages — French, Dutch, German, and Italian — during his time there. As well, he recorded and toured extensively with the early music ensemble Cappella Pratensis.
Inspired by his experiences in Europe, Cantor Halpern set a number of Shabbat prayers to music. Published as "A Sabbath Service: Seht die Lichter" by the Union for Reform Judaism (URJ) in 2000 and republished in an expanded edition in 2005 as "A Shabbat Service: The Complete Works," these melodies are sung here at Temple Shalom and widely throughout the United States.
Cantor Halpern has also served pulpits in Thousand Oaks, Cal. and most recently, Phoenix. In November 2010, he was invited to sing at the Vatican as part of a contingency of 20 North American cantors. He served on the Executive Board, and as Treasurer, of the American Conference of Cantors. Cantor Halpern is the proud single dad of Nathan.
Cantor Halpern leads Kol Nidre 5778 on Sept. 29, 2017 (below).
Contact information for Cantor Halpern:
Phone: 617-332-9550
Email: phalpern@templeshalom.org
Liturgical Music:
In Concert:
Sun, May 19 2019 14 Iyar 5779